As

Mobile Notary Publics

we are available to help you with your most important documents that need to be notarized.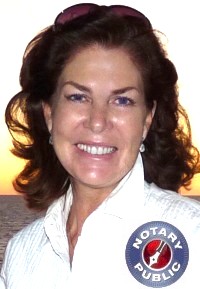 LAURIE MANZANARES-
Notary Public


Professional, Experienced & Bonded





We accept Credit Cards & Cash




(Fast and Convenient)




FREE NOTARY FORMS:
(California Compliant-PDF format)
ACKNOWLEDGEMENT FORM
JURAT FORM

More forms...
Copy Certification
Power of Attorney-
Certification
Passport Copy -
Certification Info
MOBILE NOTARY PUBLIC in OLD TORRANCE
WE TRAVEL TO YOU!

Business, home, favorite coffee shop or restaurant
(some restriction may apply)
Serving The Old Town Torrance & surrounding areas in southern, CA
A Notary Public is used to help prevent fraud
$15 per notarization plus travel
949-478-3004
(by appointment only)
EXPERIENCED, PROFESSIONAL, FAST, RELIABLE, COURTEOUS SERVICE, WITH THE UTMOST DISCRETION
contact@pacificcoastnotary.com
www.pacificcoastnotary.com
text: 949-478-3004
WE PERFORM THE FOLLOWING SERVICES:

MOBILE NOTARIZATIONS
(CALL)
(We travel to you for all your notary public needs)
REAL ESTATE LOAN SIGNING
& NOTARY SERVICES (CALL)
(CERTFIED AGENT, CFPD, TRID COMPLIANT )

REGISTERED AGENT FOR PROCESS OF SERVICE (ALL 50 STATES)
Need to find your important records?
VitalCheck

Marriage, Birth,
Record of Birth Aboard,
Divorce, Death certificates...


NOTARIES NETWORKING: If you are a Notary in the Old Torrance area and would like to network please send me an email and introduce yourself.
Would love to hear from you
ABOUT US

FBI background c
hecked


Department of Justice background checked


Bonded & Insured

Certified Real Estate Loan Signing Agent

TRID Certified

SPW Code Certified

CFPD Compliant

Member of American Notary Association


National Notary Association

Approved Vendor: State of California

We accept all major Credit Cards
& Apple Pay
Notary Public Hours of Operation
:
Regular working hours: 9AM - 4PM Mon.-Fri.
Available 24/7 by appointment
Afterhour charges begin after 4PM
and all day on weekends & recognized Holidays
949-478-3004
**Disclaimer: We can not provide legal advice to the public and cannot assist the public in the preparation of legal documents. If you have any questions concerning which form or document is appropriate for your transaction, please consult an attorney or obtain other professional advice from requesting party.



Zip codes

we service plus surrounding areas: Old Town Torrance & Torrance: 90501, 90503, 90505, 90717, 90710, 90745
Redondo Beach, 90277, Rolling Hills & Palos Verdes 90274